All-in-one Website Maintenance and Management
Discover our brilliant web service platform that gives complete control over how you create, design, maintain and develop your online presence.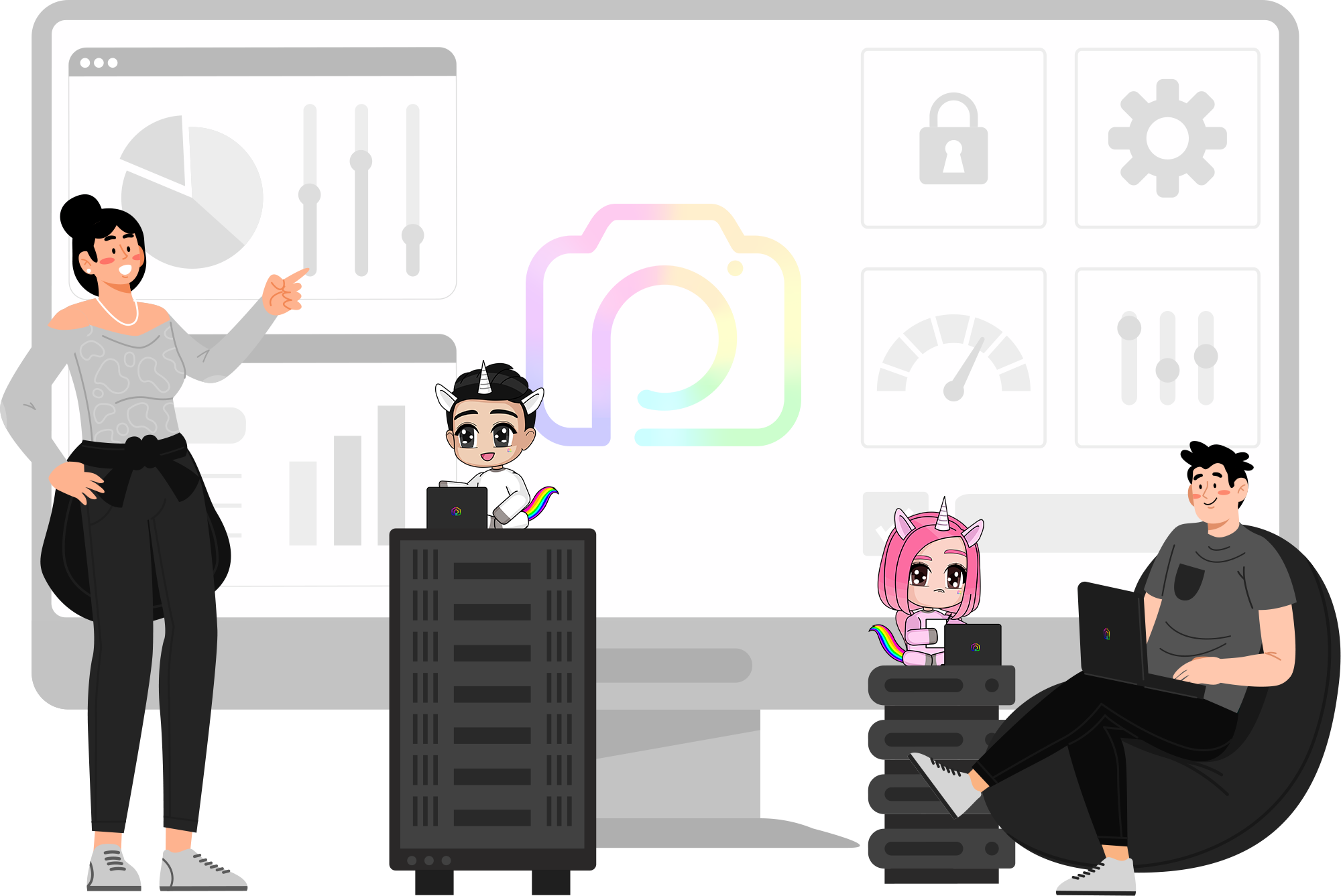 Take your online presence to new heights and unlock your true potential
Attention business owners, site owners, developers, freelancers, and agencies!

Are you tired of the constant struggle of managing your WordPress website?
Look no further because Unify is here to revolutionise your web design and development experience!
Using our expertise and experience as a web design company, we present to you: Unify, an easy, comprehensive suite of services that covers every aspect you need to elevate your online presence.
From stunning website design to powerful digital marketing services that propel your business forward, Unify has got you covered.
And that's not all.
With live chat customer support and exclusive access to our members-only community, Unify takes your web design and development experience to the next level.
Don't let your website be a burden. Let Unify empower your brand.
Seamlessly manage, masterfully succeed
Fully dedicated and managed hosting. Plus, depending on the membership tier, members get bonus hosting credit.
Site management
Streamline management of unlimited sites hosted anywhere you want. Our site management tools make automatically handling websites a breeze.
Performance
Let your websites fly. With every hosting, members can use our curated range of optimisation tools and plugins on unlimited sites.
Security
Keep every site safe, secure and scanned with the best security plugin. Plus, if you get hacked, we'll clean up and protect your sites for you, for no extra cost, 24/7/365!
Marketing
Instead of starting web development and design from scratch, Unify your websites into fully customised, branded platforms and grow your email list effortlessly.
Plugins
Forms, migrations, stats, backups, SEO and more. You'll be amazed at the range of curated plugins included in your membership.
All your website needs, one place
Unify makes monitoring, optimising, and updating unlimited sites from one location easy.

Gone are the days of hiring and coordinating across different key services (web development services, website design services, website maintenance services, etc.).
Stay informed with an instant overview of your site's status and easily label and organise your sites using intuitive filtering tools.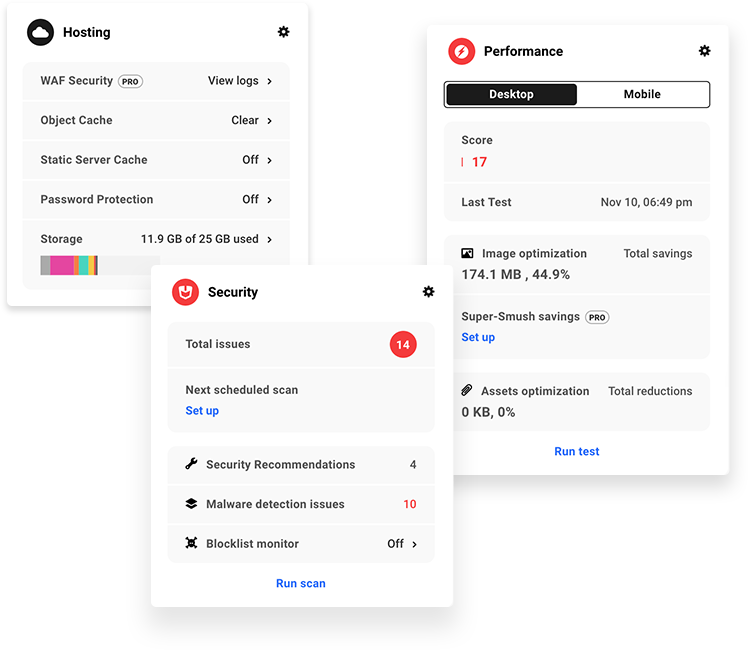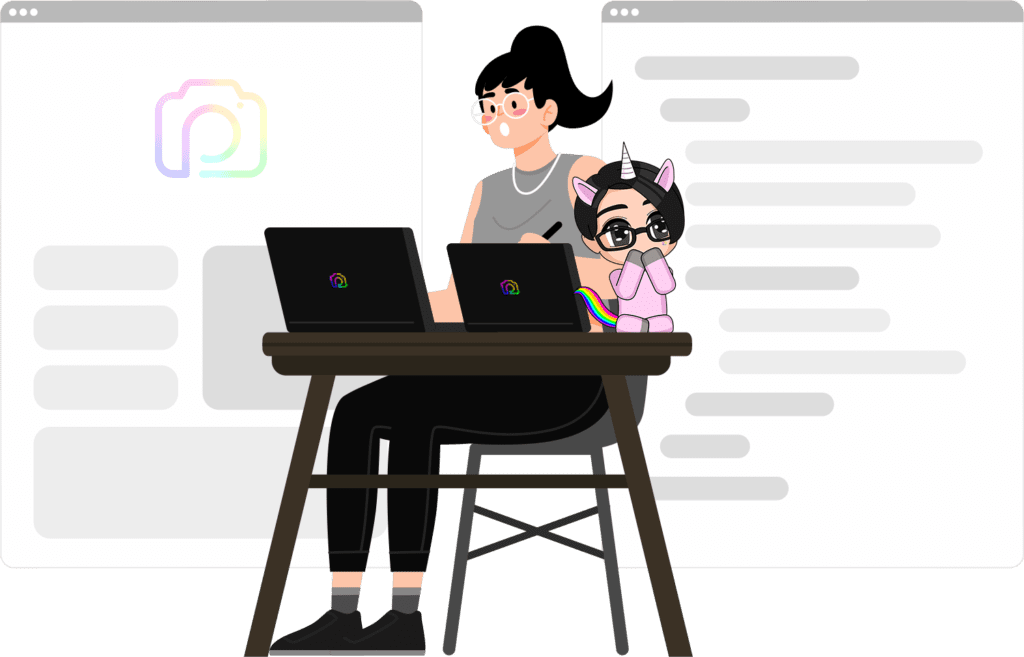 Visualise and build
Streamline your website design process with our website builder and create websites with pixel-perfect design and 100 percent clean code.

Turn your design vision into a stunning custom-made website without learning any coding - just drag and drop any widget or section onto your canvas.
Build and customise every part of your website intuitively with Elementor's visual builder. No coding required.
Achieve your design goals with a widget for every need, along with total customisation freedom.
Create flawless websites with custom positions, padding, margins, and global settings for colours and typographies.
Automated updates
Safely and securely update all your sites, plugins, and themes at your choosing - or turn on automatic updates to automate the entire updating process.
Security scanning and auditing
Don't leave your website's security to chance. Keep your site safe from hacks and blocklists by running regular or scheduled security scans and audits.

Unify provides an insightful overview of any security issues detected, and offers suggested tweaks to fortify your defences.
Plus, you'll never miss a beat with real-time alerts delivered straight to your inbox, keeping you in the loop and ready to respond.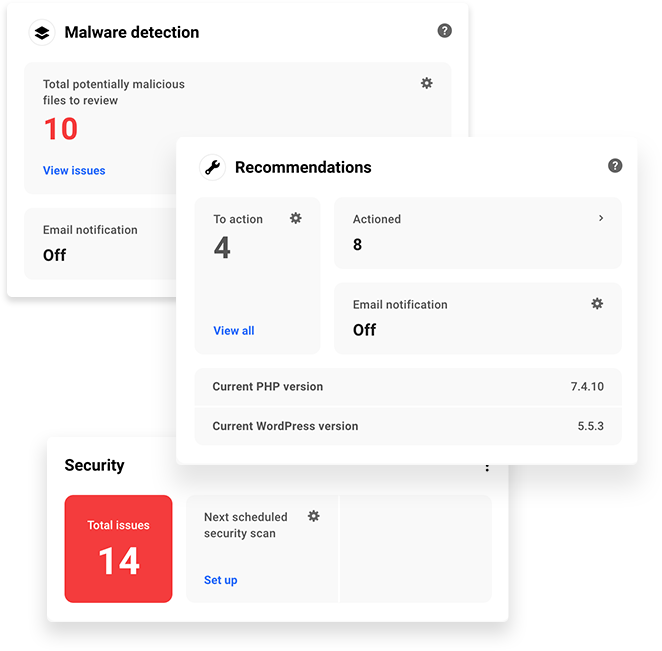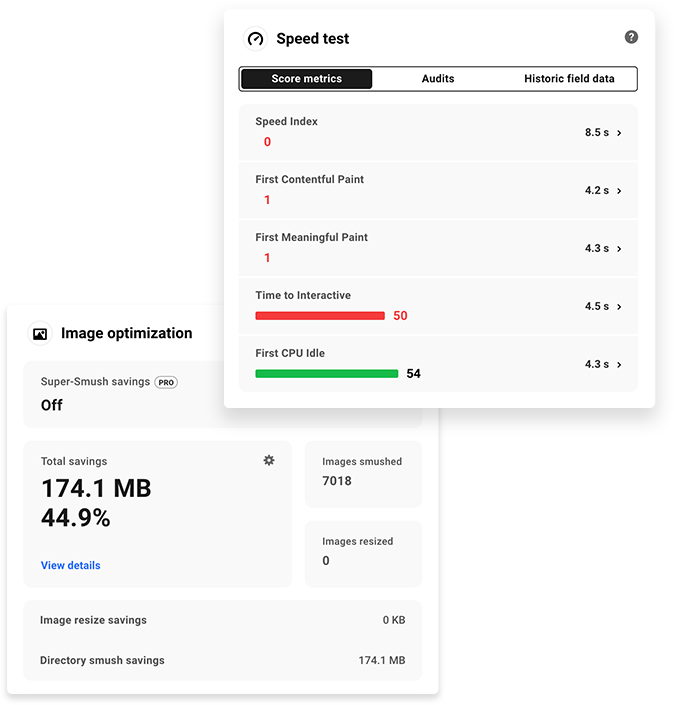 Performance scanning and improvements
Get instant performance data via the performance tab.
Run a page speed test, check site response time, and get itemised insights into areas of performance that can be improved.
Apply improvements and track how well your sites do over time.
Track and optimise SEO
Unlock the full potential of your sites by ensuring they are SEO-friendly and gain recognition from the mighty Google itself.

With Unify, you can effortlessly schedule or run SEO health checks, giving you a comprehensive overview of how your site measures up against the competition.
Stay ahead of the game with real-time notifications for essential tweaks that can skyrocket your rankings and attract organic traffic like never before.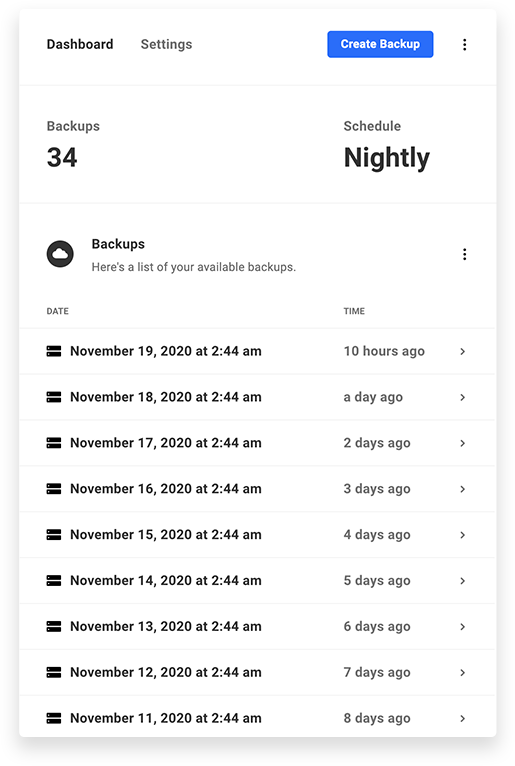 We've got your back(ups)
Easy peace of mind for yourself and your clients.

Manage and schedule automatic, incremental backups (hosted or Snapshot) at your preference, and restore saved backups anytime.
Monitor uptime and performance
Nobody wants their site to go down, and everybody wants their site to fly.

Monitor your site every minute to ensure it's up (and let you know if it goes down), and graph your site speed to ensure everything is running super smooth.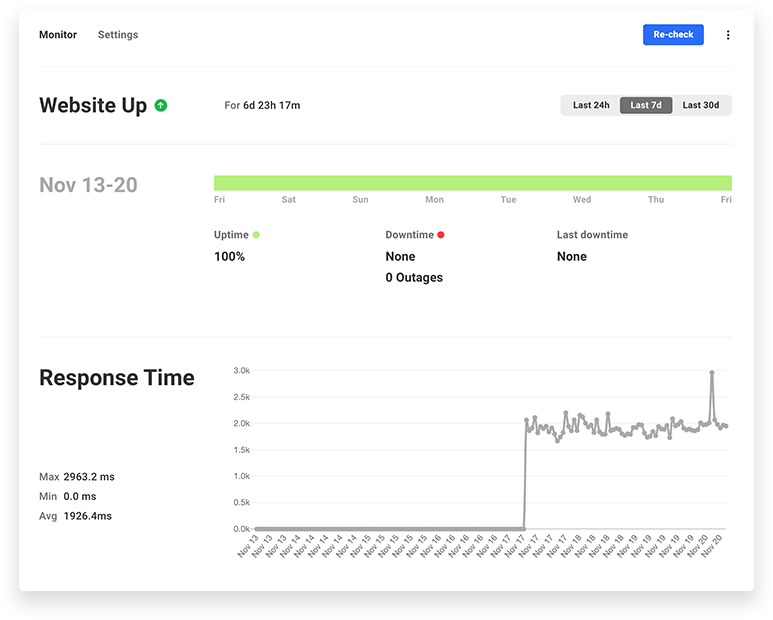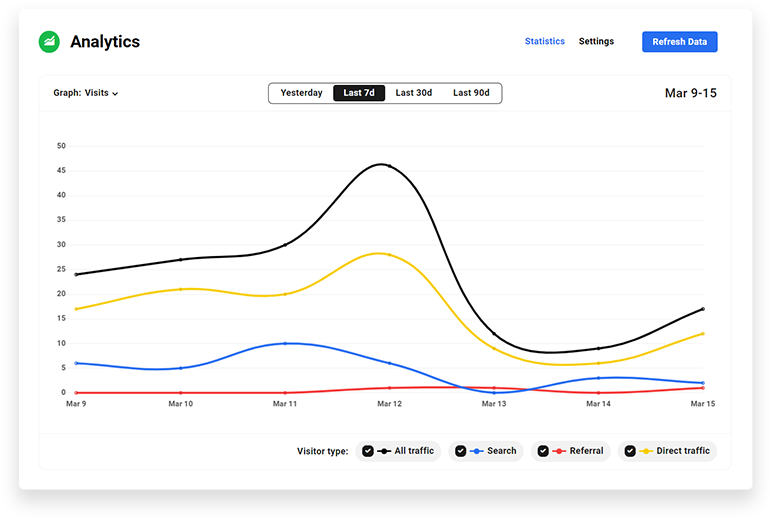 Site stats and analytics
Stay ahead of the competition by accessing the comprehensive, up-to-the-minute site and visitor data.

No more guesswork or relying on outdated information.
With Unify, you'll have instant access to key metrics, allowing you to track your strategies' success and identify improvement areas.
Professional reports for you and your customers
Whether it's you or your customers, get beautiful PDF reports demonstrating all the website development updates, security monitoring and performance improvements you've done.

You can also opt to receive developer-focused reports detailing everything you need to know about your site.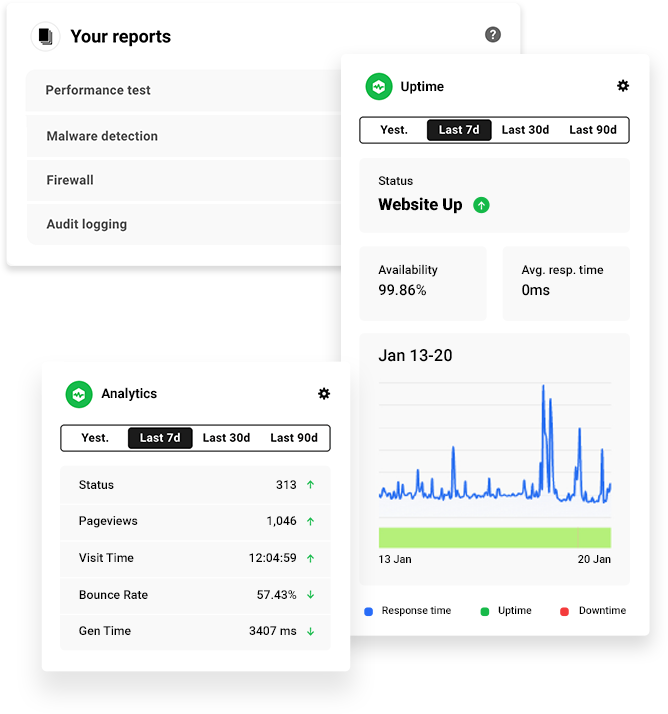 Add users and collaborate
Whether customers or colleagues, grant customised site access, add new users, and assign default or custom roles with Unify's intuitive user interface design.
Get live customer support
Get timely support for any website issue and even grant temporary access for our developers to fix your site.

Your own support team is at your fingertips anytime you need us, without the cost of full-time staff.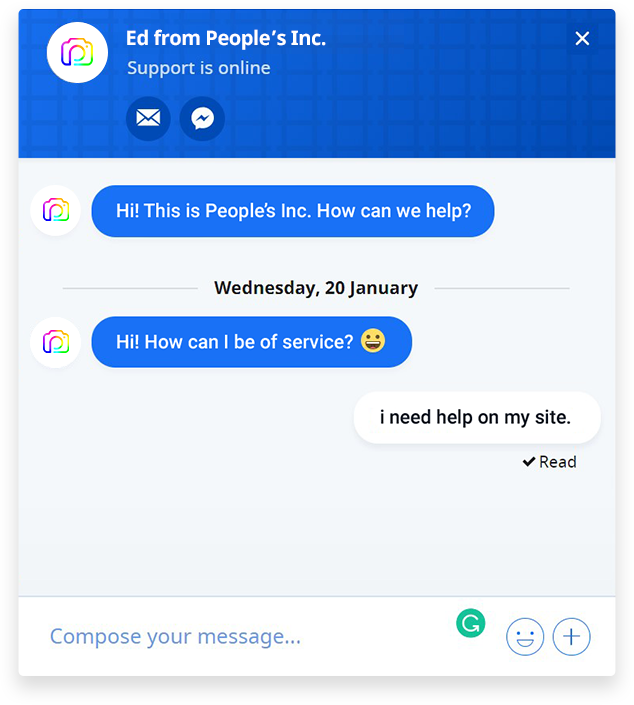 Be part of our exclusive members-only community
Gain exclusive access to our private members-only community. Connect with like-minded professionals, share insights, and collaborate on exciting projects.

Imagine the endless possibilities when you become part of this vibrant community.
We will never cap your site at any amount of visits.
These are estimates of what a typical site can support on each plan. What your site can handle varies based on the site type, theme and plugin efficiency, and traffic.
Three easy steps to
Create your own website today!
Try our hosting solution and explore all the tools and services you need to start, run, and grow your business.
Select a plan
Once payment is made, you'll receive an invoice and the link to a simple form.
Setting up
Fill up the form so we can start generating your site for you!
You're done!
Within two (2) working days, your website and hosting will be ready!
Customer support
Supported by real people

Customer support
Get the help you need - before, during, and after your trial.

Help centre
Search for useful articles and advice about starting a business.
Need web development services that are a bit more tailored?
Bespoke digital media solutions
Experience the difference between tailor-made digital solutions that align perfectly with your business goals.
Our dedicated team of professionals is committed to delivering excellence at every stage of the development process.
Website design and development
Our skilled web designers and developers work hand in hand to create visually stunning and user-friendly websites that leave a lasting impression.

With a keen focus on functionality and aesthetics, we ensure your website becomes a powerful tool to drive your business forward.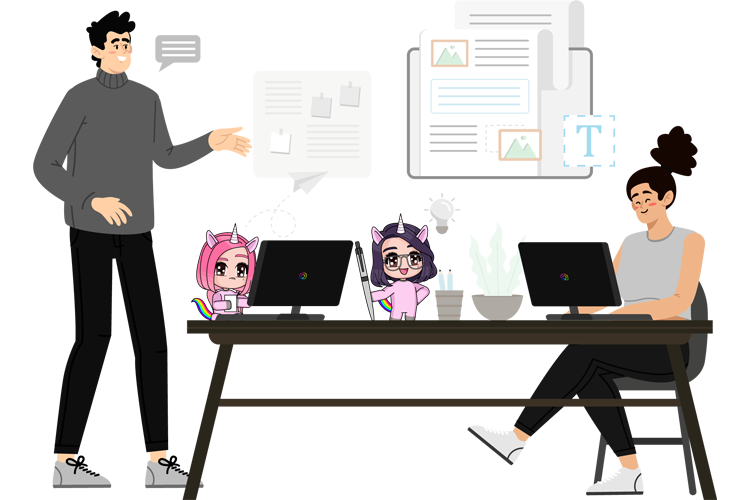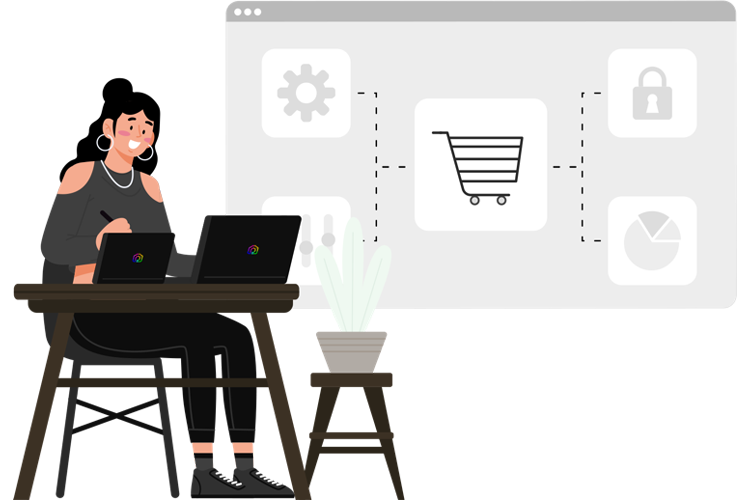 UI/UX wireframe design
Our web development company meticulously plans and blueprints the user journey, crafting intuitive and visually appealing interfaces that enhance the overall user experience.

Our wireframe designs are carefully tailored to your requirements, ensuring seamless navigation and optimal engagement.
Prototype development
We transform your concepts into tangible prototypes, allowing you to visualise and test your product before investing in full-scale development.

Our iterative approach ensures that your prototype evolves and improves based on your feedback, setting the stage for a successful go-to-market strategy.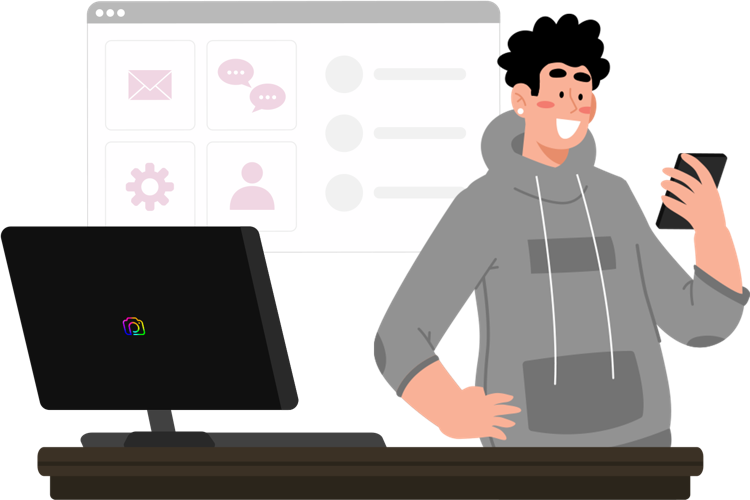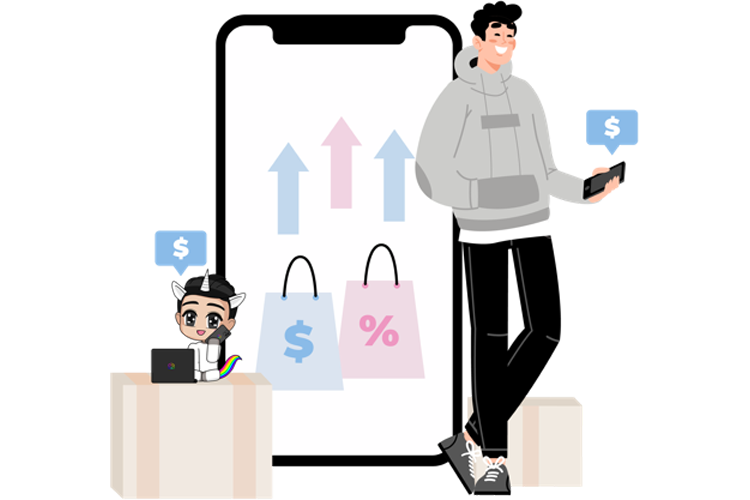 Mobile app development (iOS and Android)
Unleash the power of mobile with our cutting-edge app development services for both iOS and Android platforms.

Our skilled mobile app development company leverages the latest technologies to create high-performance, feature-rich apps that deliver an exceptional user experience.
E-commerce website development
We create robust and scalable platforms that empower you to sell products or services online with ease.

From secure payment gateways to personalised shopping experiences, we implement advanced features to maximise conversions and drive revenue growth.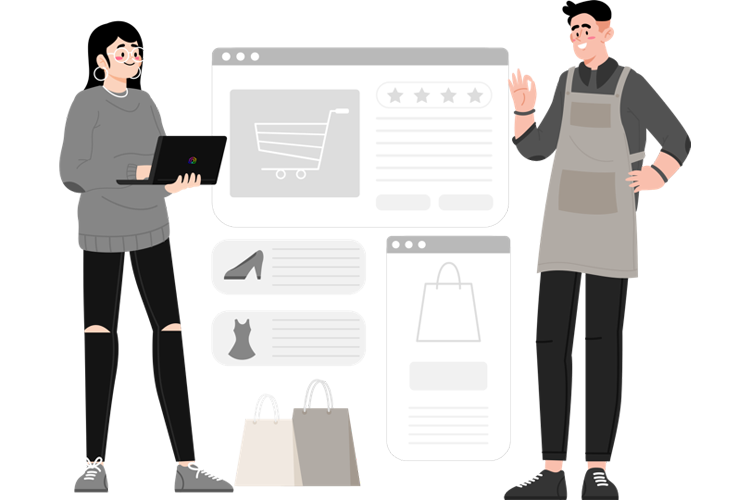 Keep learning with free resources
Trusted by over 50,000 small and large organisations

You made it so simple. My new site is so much faster and easier to work with than my old site. I choose the page, make the change and click save. Thanks, guys.

Wow, that was one of the quickest replies! I appreciate it. I currently don't need any change, but it's good to know you'll be able to assist.

Wow. I just updated my site, and it was SO SIMPLE. I am blown away. You guys are genuinely kickass. Thanks for being so awesome. High fives!
Stay connected to your customers
Start selling with PINC 360 today
Explore all the tools and services you need to start, run, and grow your business.
Other services you may be interested in